I received this amazing book (and bag!) from my friend Mali.
Milk Teeth
is a collection of drawings by Vancouver artist
Julie Morstad.
This particular one is my favorite. 
"Gluttony" 
There's something very calming about these images, yet some of them are quite disturbing. Morstad often portrays young women and girls, sometimes beautiful, sometimes deformed, or hiding behind manes of rather
Ring
-esque hair. Still, even when they awake with hairy tentacles instead of arms, these girls seem oddly laissez-fair about their own strangeness.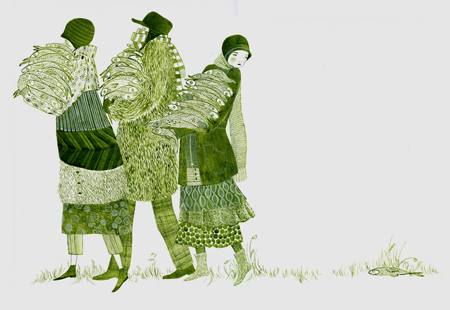 Morsted's images are both richly layered and light. They contain fine detail, yet have a naivistic simplicity about them. 
Personally, I found some of her paintings resonated with me deeply, particularly "Gluttony" (pictured above), as well as portraits of girls using their hair as scarves and having bees buzz in and out of their head.  If you are into print art, or children's books, I recommend picking up this nuanced (and at $ 12.99 very affordable) artist. 
Thanks Mali (a future artist and illustrator herself)!
Mali at the Art Store during our recent Seattle sojourn.